About this Product
Unique with a warm natural feeling, and glazed brightly; each of our sugar skull ornaments is one of a kind and will have slight variations from the photos. Using natural clay from the American Southwest and a pinch of the sparkling mineral mica (for subtle beauty and strength), every ornament is created in our home ceramic studio where we design, print, and paint each by hand. Using a graphic ceramic concept, our images are modern in approach and timeless in charm and are just plain fun to collect. They make thoughtful gifts for love ones, family, co-workers, and teachers, and are wonderful little add-ons when paired with larger gifts.
Each comes hung on a raffia string and is packaged snug for shipping in a beautiful crystal clear plastic "pillow" box. Great for collecting and gifting as is. Thank you for appreciating our hand made approach and viewing our ornaments!
*We source our clay locally in the Manzano Mountains of New Mexico where we live and the mica from Taos, just to the north of us.
P.S.
Our ornaments are sure to add to the sentiment of your holidays.. but its okay if you decide to keep them out and on display year round, we do!
Edgewood, NM
Thank you for shopping with us! Also visit our full website at HandsinClayNM.com
Contact Maker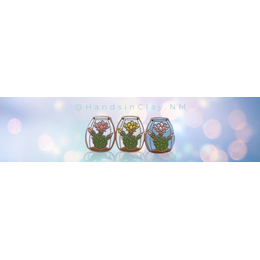 Meet the Maker
jodi indigo is the creative mom behind Hands in Clay NM she is an entrepreneur, graphic artist and ceramist as well as a hobby farmer. Her studio is a place where the old world meets with the new; it is buzzing with 3d printers, kids, and cats.

"My family and I work together in our home studio(s) to create a playful line of ceramic ornaments and gifts that are really quite unique. We take pride in using locally sourced clay from the Manzano Mountains where we live in New Mexico! Our ornaments and decor are visually captivating and serve as beautiful representations of the land from which the clay originates.
We do all the work, from line drawing through the finished designs, ourselves, including the 3d printing. Our children have been involved in the craft as part of their home school curriculum since they were young. They are highly skilled and creative and now have their hand in all parts of the process including graphic design, 3d printing, raw clay work, glazing, and interacting with our audience at various local shows.
Our philosophy is centered around making our art accessible to many by keeping it small and approachable insuring that our products are available at a reasonable price, and by creating a variety of designs that appeal to a wide audience. We enjoy what we do and feel satisfaction knowing that our customers really appreciate our work." ~jodi
jodi@handsinclaynm.com
Shop Policies
We are confidant in the quality of our handicraft and anticipate that you will love you purchase from us, however; should you not be satisfied with your purchase, we do happily issue refunds as long as returns are postmarked within one week of purchase. We do not refund shipping costs and the customer is responsible for return shipping.
Please sign in so that we can notify you about a reply